BACHELOR - LP - BLOWOUT - BOX (Mess Folk, Humms, Beat Beat, Makeouts, Terrordactyls)
HAVE 5 SEALED COPIES FOR A BLOWOUT PRICE OF 10,00 EUROS!!!!
MESS FOLK - This is Mess Folk... And More! LP
MESS FOLK is from Sydney, Nova Scotia, in Canada. It was started by Philip Tarr in December 2008. This is a complation record featuring various recordings from 2008-2010. This is basicly the 12 Song "This is Mess Folk" Tape, released in 2009. It first came out with a couple of copies as self release, then SCOTCH TAPES did a batch of 100 copies. Three songs ended up an a 7" out on HOZAC records. This LP also has 10 new and unreleased songs. All songs have been mastered for this release by Justin Perkins. Now as you know the story, start listining to these devastating cuts of delusional inner turmoil that sets in after months of cabin fever. What else can you expect, when growing up in a small industrial city which is known for pretty much one thing: being the second-largest toxic environmental disaster hot spot in Canada.

THE HUMMS - Lemonland LP
The Humms were formed in March of 2008 by Zeke Sayer with friend Tyler Glenn in Hartwell, GA. They recorded the first songs in Zeke's studio which was (at the time) housed in a 1950's mobile home using an extension cord for power and was self-proclaimed to be haunted by the previous owner of the property who died right outside the door.The band relocated to Athens, GA and gained a slim but sturdy following from playing the local clubs like Caledonia Lounge and the 40 Watt. Mastermind Zeke Sayer recorded this album on his own and after 5 months of work on the debut, the Humms saw a live format once again thanks to Kentucky native Jessica Miller on Bass Guitar and West Coast drummer "Ziggy Zag" of the band PIPSQUEAK. What you hear on this debut record is fine tuned garage rock brilliance, songs about blood sucking vampires and freaky girls, death and daydreams. Yep, tune in and drop out.

BEAT BEAT - debut LP
After the fantastic 7" on Spin the Bottle Records from Canada and another great 7" on Bachelor / Milk and Chocolate Records they started to play live frequently and even got small tours and a longer one overseas! After this USA and CANADA trek in 2009, BEAT BEAT finished recording the full length and gave the recordings to Matteo from the MOJOMATICS. He polished the songs a bit and after "only" one year of production time here is the final LP, a true Garage / Powerpop gem!
If you catch them live you will soon know why it took forever to get this album done… these guys like playing live and par-tee-ing a lot more than just record songs and do stoopid photo shoots for the artwork…

THE MAKEOUTS - In a Strange Land! LP
THE MAKEOUTS started long time ago as a RIP OFFS blueprint, short harsh guitar riffs, fast paced songs and snotty vocals. Their first demo blew me away, so I did a 7" with them (still available btw). THE MAKEOUTS became quite well known in their country, played with all famous garage punk bands that stopped by, and toured Europe with THE HEARTATTACKS (also from Sweden). The< got quite some reputation as fun live band and got invited to festivals like ROTTERDAM RUMBLE, PRICKLY PEA BOWLS (Sardinia) and the CHOKE FEST (Innsbruck, Austriah!). After years and years of practicing they finally learned how to play their instruments and got back with a unique mixture of punkrock and garage pop, they definitely learned their BACK FROM THE GRAVE and NUGGETS lessons and fired them up with some serious BLACK LIPS, JAY REATARD and KING KHAN & BBQ SHOW herbs.
THE TERRORDACTYLS LP
On their self-titled album, The Terrordactyls' quirky, lighthearted yet decidedly melancholic pop/anti-folk tunes are augmented by toy pianos, kazoos, and the voice of Kimya Dawson (The Moldy Peaches, Juno). Despite all these charming trappings, though, nothing really serves to take the edge off The Terrordactyls' gutsy interpretation of the sad sweetness (or sweet sadness) of living. This piece of black vinyl is housed in a deluxe gatefold sleeve.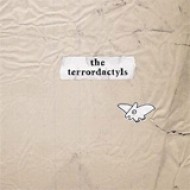 Related Products