BACHELOR - LP - BLOWOUT - BOX 2
HAVE 5 SEALED COPIES FOR A BLOWOUT PRICE OF 20,00 EUROS!!!!
INDIAN WARS - Walk Around The Park LP
INDIAN WARS are a 5 piece band from Vancouver, Canada, that will take you on an all-night-headlamps-off journey through the clearcut woods of your terminal boredom
affected brains and keep driving on until the bright shining dawn of June 21, when the earth's axial tilt is most inclined towards the sun. Or, more technically, when the sun enters
zero degrees of the zodiac sign Cancer, and astral solar power is amplified. One month and three weeks previous to this shortening of nights and lengthening of days,
BACHELOR RECORDS will release upon the masses the bands inaugural LP, "WALK AROUND THE PARK," (recorded by Felix Fung at Little Red Sounds). It will include 13
original tracks inscribed onto a flat black disc and housed in a sturdy gatefold sleeve depicting, among other things, a nude photo of the band.
Don't forget to order this record from BACHELOR RECORDS (THE FINEST IN ROCANROL RECORDS) to be sure you have it in time to play during the SOLAR FESTIVAL while you
and your friends rejoice in CIRCLE SALTATIONS, SNAKE DANCING, SEXUAL ORGIES, INDULGENCE AND FEASTING.
FLIP-TOPS, THE - Are Still A Band LP
That's right pal!! The Flip-Tops are back!! You probably wouldn't have realized that they were always here with us because you were too busy playin with yours self! Lucky for you and everyone else these boys are still making the REAL PUNK ROCK racket while the rest of the planet has their ears clogged full of bearded indie rock douche melody and loft pop weird punk garbage that sounds like it's been recorded on some socially retarded assholes 4-track! Lucky for you the gimp from BACHELOR RECORDS still gives a flying fuck about good music!
You now have the opportunity to hear 11 songs of pure hatred mixed with enough sugary syrup to give you that stomach ache you always wanted!! You now have the opportunity to buy the second long awaited lp that has been years in the making from the only surviving band from the Legendary Rip Off Records roster!!! That's right kids! The Flip-Tops are still a band!!!!
DIE ERSTEN MENSCHEN - Apocalypse Now & Then LP
Now, as I type this I'm listening the debut record of DIE ERSTEN MENSCHEN and I can tell you, we are so proud to have this incredible garage rocker pressed on red and black vinyl, with a BACHELOR stamp on it! If you have the slightest interest in series like TEENAGE SHUTDOWN or BACK FROM THE GRAVE you get crazy for this. If you have records of bands like (early) BLACK LIPS, HYPSTRZ, HENTCHMEN and such and like to play them over and over - DIE ERSTEN MENSCHEN are the thing you should ask for in your records shoppe. Their sound is a bit like before mentioned bands, just give them a blend of wylder 60s combos and plant this seed into first class Crypt Records soil from circa 1993... Don't expect this to be your ordinary BFTG copycat band dressed in hipster garment.
PERSONAL & THE PIZZAS - Raw Pie LP
From New Jersey, these part-time workers of a well known Pizza Joint, made it to the world press. Just for fun, the recorded a couple of singles which all became huge hits and are constantly sold out everywhere. They toured even the West Coast. They really like pizza and cheap beer. They actually do not really know how to play their instruments. They only know three bands, RAMONES, THE STOOGES and THE DICTATORS. And they know how to look handsome! So here it is, the first full lenght record from PERSONAL AND THE PIZZAS, new recordings of all their massive hits, great artwork by Ben Lyon. Classy!
INDIAN WARS - Songs From The North LP
After their very successful first full lenght released in 2011, "Walk around the park" they soon had new ideas, new songs, and tried them on live audience around their hombase, Vancouver, BC, Canada. They booked a studio to record their sophomore album in just one night, in the wee hours, when the rate is cheap, with hardly any overdubs and with live vocals. Beside of their instruments, skill and musicianship they also used alcohol to finish this epic album, at least this is what I think of when I'm listening to the songs... The music is quite diverse, you can take a journey through roots country, rock and roll and garage punk-eske songs, but it still sounds very homogenous in its entirety. Yeah, its only blah blah, but how can someone write about this great full lenght without starting to stutter.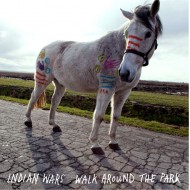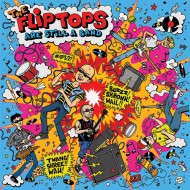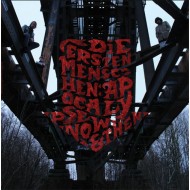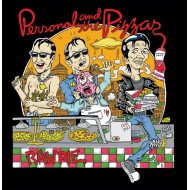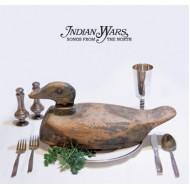 Related Products